Silver pendant and earrings set "The Three Windows"
by
A pendant and a pair of earrings that together symbolize the Three Windows found in the Machu Picchu archaeological site. The Three Windows, built by the Inka civilization, were thought of as windows to and representations of their three divisions of the cosmos: the upper (Hanan Pacha), the middle (Kay Pacha) and the lower (Uku Pacha) worlds. Each window is decorated with patterns that have their origin in the Inka calendar.
Even though the complete set represents Machu Picchu's Three Windows, the pendant and the earrings can be purchased separately if desired. The chain is included with the pendant.
Materials
Both the pendant and the earring are handcrafted using quality 950 silver (95% pure silver) and natural pigments. The indigo, blue and turquoise colors are derived from semi-precious stones, while the white, white/yellow and orange colors are derived from sea shells.
Size
The pendant is 3.4 cm (1.34 in) long. The base of the window is 2.2 cm (0.87 in) wide; the top is 1.6 cm (0.63 in) wide. The chain is 49 cm (19.29 in) in total length, but it can be adapted to match your requirements.
The earrings are 2.1 cm (0.83 in) long each. The base of each window is 1.4 cm (0.55 in) wide; the top is 0.8 cm (0.31 in) wide.
We can always make a custom make so that you get just the right size for you, for no additional cost!
950 silver contains a very high percentage of pure silver which is malleable in nature and it should to be handled with care to avoid scratches. It can be washed with cold or hot water, detergent and a soft fabric such as cotton.
We will only be able to confirm the shipping costs for an order when we know the exact combination of items and the destination address. In some cases items can be added to an existing shopping cart without incurring additional shipping costs.
As an example, the shipping costs when the first listed variant of this product is the only item in an order, are:
$28.92 USD using Express Shipping service to North America
$32.36 USD using Express Shipping service to Europe
Orders containing jewelry items may only be delivered via the Express Shipping service.
The Express Shipping service normally requires up to 10 days for delivery and the Economy Shipping service may require up to 25 days, unless there are delays in the customs authority of your country.
We normally dispatch orders within 1-3 working days of the order placement. In some cases we may require more time due to operational difficulties in the region or lack of immediate availability. In such cases we will notify you seeking a confirmation that the extra time required is acceptable for you.
There are no reviews for this product at the moment. Have a look at some reviews for other products from this shop.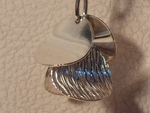 What is 950 silver?
Pure silver is very soft by its nature and it cannot be easily used to craft jewelry. An alloy that consists of 92.5% of silver and 7.5% of other metals (usually copper) is most commonly used for making jewelry - this is called "sterling silver". Our artisans use "950 silver" which is an alloy consisting of 95% silver and 5% of copper or other metals and which is one of the highest silver standards used for crafting jewelry that is currently in use.