A set of a necklace and a pair of earrings handcrafted using bright 950 silver. They feature rhombus-shaped patterns painted with natural colors that, like all colors used in Jewels of Cusco creations, are derived naturally from stones and sea shells.
The necklace and the earrings can also be sold separately.
950 silver contains a very high percentage of pure silver which is malleable in nature and it should to be handled with care to avoid scratches.
We will only be able to confirm the shipping costs for an order when we know the exact combination of items and the destination address. In some cases items can be added to an existing shopping cart without incurring additional shipping costs.
As an example, the shipping costs when the first listed variant of this product is the only item in an order, are:
$28.92 USD using Express Shipping service to North America
$32.36 USD using Express Shipping service to Europe
Orders containing jewelry items may only be delivered via the Express Shipping service.
The Express Shipping service normally requires up to 10 days for delivery and the Economy Shipping service may require up to 25 days, unless there are delays in the customs authority of your country.
We normally dispatch orders within 1-3 working days of the order placement. In some cases we may require more time due to operational difficulties in the region or lack of immediate availability. In such cases we will notify you seeking a confirmation that the extra time required is acceptable for you.
Maria B.

on 05 Apr 2017

Verified Purchase

These earrings are gorgeous, the pictures don't do them justice enough! The colors from stones and sea shells are beautiful and bright and the design is harmonious and elegant. The silver is brighter than other jewelry I have, probably due to higher concentration in pure silver (950 silver). The prices are reasonable for the quality and I would certainly buy again!

The service was good and communication was adequate and clear throughout the process.
Some reviews for other products from this shop.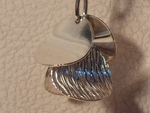 What is 950 silver?
Pure silver is very soft by its nature and it cannot be easily used to craft jewelry. An alloy that consists of 92.5% of silver and 7.5% of other metals (usually copper) is most commonly used for making jewelry - this is called "sterling silver". Our artisans use "950 silver" which is an alloy consisting of 95% silver and 5% of copper or other metals and which is one of the highest silver standards used for crafting jewelry that is currently in use.
Similar products
Here are some fine examples of jewelry handcrafted with 950 silver.
All jewelry