Here at the Inka Market we work with highly skilled artisans from the communities at the Andean highlands to produce some of the best quality textiles in the region. They use traditional weaving techniques and naturally dyed alpaca yarn, handspun or industrially processed when necessary. Peru is famed for producing the best quality alpaca in the world.
Featured Textiles
Here are some examples of quality textiles handcrafted by our artisans with 100% alpaca yarn.
All alpaca products
Can't find what you're looking for?
Have you looked at our featured textiles, and browsed the products under the Alpaca and Sheep Wool categories as well, but you have not found what you're looking for? We may still be able to help. There are plenty of high quality textiles in a variety of designs that are available but have not been listed yet. In many cases we may even be able to accept requests for implementing custom designs. Let us know what your requirements are and we'll do our best to find the right match for you.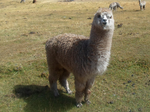 About the alpaca fiber
Alpaca is the natural fiber that is derived from the hair of the Alpaca camelid, a species native to the Andes that lives between 3,500 and 4,500 meters altitude. The indigenous people in the Peruvian Andes have been harvesting the alpaca fiber for thousands of years in order to create a variety of handmade textiles. Good quality alpaca produces luxurious textiles that are famed for being lightweight, warm, strong, hypoallergenic, and for having water and fire resistance qualities.
About the Inka Market
The Inka Market is an online marketplace that trades unique, handcrafted products from artisans and communities in the Peruvian Andes. It is an initiative of The Golden Silver Hands, a social enterprise with the mission to promote the Andean arts and crafts and to help the local artisans to improve their livelihood by reaching the global markets.