Peruvian alpaca poncho "Rainbow, Suns and Stars"
by
A simply gorgeous Peruvian poncho of the finest quality, handcrafted by artisans from the Chahuaytire community using traditional weaving techniques.
Design
The design features depictions from the Chahuaytire community; a rainbow in the middle surrounded by stars on the one side and suns on the other; and a pattern that represents the mountains (Apus) that for the locals are living spirits. The alpaca-white background gives it a modern and elegant feeling; traditional patterns with a modern touch.
Like most Peruvian ponchos, it is made by joining two separately woven pieces.
Materials
The yarn is quality, soft alpaca and the weaving is very fine. We offer two versions; alpaca blend which contains approximately 70% alpaca and 30% sheep wool, and 100% baby alpaca. The most important difference that would affect your choice is that the 100% baby alpaca version is significantly softer, a truly luxurious yarn.
All yarn has been dyed with natural, handcrafted, mostly plant-based, colors:
Variations of blue come from the indigo plant.
Variations of green come from the chillka plant.
Variations of yellow come from the q'olle plant.
Variations of red, orange and purple come from the cactus insect cochineal mixed with plants.
White and dark grey/black colors are natural undyed alpaca yarn.
Additional border
The neck features a beautiful border (called chichilla by the locals) that ensures that the two pieces will not split apart with use. The option to add similar border all around the poncho is available for an additional cost. The border adds extra strength to all sides making it less likely to incur accidental damage, such as tearing, resulting in a better quality poncho that will last longer.
Dimensions
This poncho comes in two sizes:
Medium, 150 - 155 cm (59.06 - 61.02") length by 110 - 115 cm (43.31 - 45.28") width.
Large, 175 - 180 cm (68.90 - 70.87") length by 110 - 115 cm (43.31 - 45.28") width, with larger neck opening as well.
The above dimensions are without the fringe. The fringe ranges between 8 cm (3.15") and 15 cm (5.91") long.
It is possible to implement smaller ponchos for kids and teenagers upon request.
Natural alpaca textiles should be handwashed in cold water using shampoo or mild detergent. Let them dry on a flat surface so that they don't loose their shape. Dry cleaning is also an option.
We will only be able to confirm the shipping costs for an order when we know the exact combination of items and the destination address. In some cases items can be added to an existing shopping cart without incurring additional shipping costs.
As an example, the shipping costs when the first listed variant of this product is the only item in an order, are:
$36.08 USD using Express Shipping service to North America
$33.81 USD using Economy Shipping service to North America
$37.46 USD using Express Shipping service to Europe
$35.73 USD using Economy Shipping service to Europe
The Express Shipping service normally requires up to 10 days for delivery and the Economy Shipping service may require up to 25 days, unless there are delays in the customs authority of your country.
We normally dispatch orders within 1-3 working days of the order placement. In some cases we may require more time due to operational difficulties in the region or lack of immediate availability. In such cases we will notify you seeking a confirmation that the extra time required is acceptable for you.
There are no reviews for this product at the moment. Have a look at some reviews for other products from this shop.
by Maria B.

I am really excited with this purchase! The material, mostly alpaca, is really high quality; the thread is very fine and it is soft at the touch, more than I would expect from a woven product. The colors come from natural dyes and yet they are more vivid than I expected.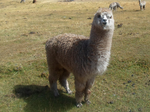 About the alpaca fiber
Alpaca is the natural fiber that is derived from the hair of the Alpaca camelid, a species native to the Andes that lives between 3,500 and 4,500 meters altitude. The indigenous people in the Peruvian Andes have been harvesting the alpaca fiber for thousands of years in order to create a variety of handmade textiles. Good quality alpaca produces luxurious textiles that are famed for being lightweight, warm, strong, hypoallergenic, and for having water and fire resistance qualities.
Similar products
Here are some similar products handcrafted in the communities of the Peruvian Andes with alpaca yarn.
All alpaca products
About the Inka Market
The Inka Market is an online marketplace that trades unique, handcrafted products from artisans and communities in the Peruvian Andes. It is an initiative of The Golden Silver Hands, a social enterprise with the mission to promote the Andean arts and crafts and to help the local artisans to improve their livelihood by reaching the global markets.