Alpaca masterpiece poncho "Rainbow Garden"
by
A masterpiece of traditional weaving and a fruit of several months of labor, this alpaca blend poncho rightfully deserves its place in our The Golden Silver Touch collection. Unlike most Peruvian ponchos that are 2-piece ponchos i.e. they consist of 2 separately woven pieces joint together, this is a larger, 3-piece version without the joining seam at the center.
Materials & Design
This poncho is handcrafted with alpaca yarn that is a mix of alpaca, sheep wool and synthetic material. Some colors are a result of handcrafted, natural dyes and some are industrially dyed. The poncho is woven using a backstrap loom, the traditional weaving technique of the region employed since ancient times. It features an exceptionally rich and colorful combination of traditional Inka patterns and a dense fringe all around that set it apart from most ponchos made in the communities. Its patterns include the "Flower of Pachamama" or "Flower of Mother Earth", and a pattern symbolizing "friendship and amicability".
A 100% baby alpaca version of this poncho will be published by our new luxury textiles partner INTIMAKI. Create an account to be notified when their shop is published, or let us know of your interest via the product enquiry form.
Dimensions
The dimensions of this poncho are 175-180 cm long by 140 cm wide (without the fringe), and it has a 31 cm neck opening. The surrounding fringe is approximately 10 cm long on all sides. It weighs 1375 grams.
Note on Availability
This poncho has been sold. Due to high demand, we are looking to collaborate with more artisans from the community to create more pieces that will be ready in a few months. If you would like to be notified or place a backorder, let us know via the product enquiry form.
Natural alpaca textiles should be handwashed in cold water using mild detergent. Let them dry on a flat surface so that they don't loose their shape.
We will only be able to confirm the shipping costs for an order when we know the exact combination of items and the destination address. In some cases items can be added to an existing shopping cart without incurring additional shipping costs.
As an example, the shipping costs when this product is the only item in an order, are:
$43.10 USD using Express Shipping service to North America
$53.31 USD using Economy Shipping service to North America
$43.25 USD using Express Shipping service to Europe
$53.46 USD using Economy Shipping service to Europe
The Express Shipping service normally requires up to 10 days for delivery and the Economy Shipping service may require up to 25 days, unless there are delays in the customs authority of your country.
We normally dispatch orders within 1-3 working days of the order placement. In some cases we may require more time due to operational difficulties in the region or lack of immediate availability. In such cases we will notify you seeking a confirmation that the extra time required is acceptable for you.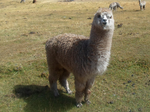 About the alpaca fiber
Alpaca is the natural fiber that is derived from the hair of the Alpaca camelid, a species native to the Andes that lives between 3,500 and 4,500 meters altitude. The indigenous people in the Peruvian Andes have been harvesting the alpaca fiber for thousands of years in order to create a variety of handmade textiles. Good quality alpaca produces luxurious textiles that are famed for being lightweight, warm, strong, hypoallergenic, and for having water and fire resistance qualities.
Similar products
Here are some 100% alpaca products that are of similar type or made using similar weaving techniques.