A beautiful, handmade, a crochet poncho made of Indigo Blue/Black/White melange alpaca yarn. Its length is 80 cm on the sides and 100 cm in the middle, shoulder-to-bottom. It is 37 cm wide shoulder-to-shoulder and it widens towards the bottom. The neck opening is 20 cm wide measured shoulder-to-shoulder.
The material is soft and flexible and it can stretch a bit.
More colors may be available than the Indigo Blue/Black/White melange shown in the pictures. If you would prefer a different color let us know using the product enquiry form.
Natural alpaca textiles should be handwashed in cold water using mild detergent. Let them dry on a flat surface so that they don't loose their shape.
We will only be able to confirm the shipping costs for an order when we know the exact combination of items and the destination address. In some cases items can be added to an existing shopping cart without incurring additional shipping costs.
As an example, the shipping costs when this product is the only item in an order, are:
$28.92 USD using Express Shipping service to North America
$20.43 USD using Economy Shipping service to North America
$32.36 USD using Express Shipping service to Europe
$21.06 USD using Economy Shipping service to Europe
The Express Shipping service normally requires up to 10 days for delivery and the Economy Shipping service may require up to 25 days, unless there are delays in the customs authority of your country.
We normally dispatch orders within 1-3 working days of the order placement. In some cases we may require more time due to operational difficulties in the region or lack of immediate availability. In such cases we will notify you seeking a confirmation that the extra time required is acceptable for you.
Dimosthenis P.

on 18 May 2017

Verified Purchase

My wife's sister bought a similar poncho from the Ya Market and she was so satisfied that my wife decided to buy one as well. She really liked it, it is great! She was quite impressed with the quality of the alpaca yarn since she hadn't had alpaca clothes before. It is softer and warmer than she expected for an a crochet poncho. It is versatile and it can be worn as part of casual or formal wear. The knitting technique is great too, these artisans know their craft!

They should definitely get models to rehearse the clothes for the website, the pictures don't do them justice enough.

The service was great as well with clear communication throughout the process and the price is reasonable for the quality. We would definitely buy again.
Some reviews for other products from this shop.
by Dimosthenis P.

The second alpaca product I purchased from the Ya Market, after being satisfied with a poncho I bought from the same shop (Intichay). I chose these mittens for their elegant design, and I am delighted with the choice.

by Evaggelia B.

I bought the black variation of this scarf, quite happy with it. It has a classic design and it is versatile as it can be worn for either a casual or a more elegant look. The fabric is 100% alpaca and it is lightweight, soft and warm, as described.

by Maria B.

I know a lot about knitting, and I can tell that this poncho is handmade and of the highest quality. It was the first time I bought something made with alpaca yarn (we don't have that in Europe!) and I was impressed by how soft, fluffy and warm it is.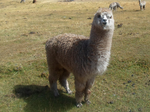 About the alpaca fiber
Alpaca is the natural fiber that is derived from the hair of the Alpaca camelid, a species native to the Andes that lives between 3,500 and 4,500 meters altitude. The indigenous people in the Peruvian Andes have been harvesting the alpaca fiber for thousands of years in order to create a variety of handmade textiles. Good quality alpaca produces luxurious textiles that are famed for being lightweight, warm, strong, hypoallergenic, and for having water and fire resistance qualities.
Similar products
Here are some similar products handcrafted by our artisans in the Peruvian Andes.