This is a 100% alpaca handmade cloth made by women at the Patacancha community. It features traditional Andean colors and patterns and it is mostly used as a table cloth for a small table. It is made of 2 joint pieces, a common technique in traditional textiles, and it can be used folded as well. The 2 pieces can also be taken apart to form a basis for a set of pillow covers.
This table cloth is square in size, 75x75cm. Due to a defect in its measurements (one size is 2.5cm longer), it is sold at a discounted price (original retail price is $150 USD).
Natural alpaca textiles should be handwashed in cold water using mild detergent. Let them dry on a flat surface so that they don't loose their shape.
We will only be able to confirm the shipping costs for an order when we know the exact combination of items and the destination address. In some cases items can be added to an existing shopping cart without incurring additional shipping costs.
As an example, the shipping costs when this product is the only item in an order, are:
$28.92 USD using Express Shipping service to North America
$20.43 USD using Economy Shipping service to North America
$32.36 USD using Express Shipping service to Europe
$21.06 USD using Economy Shipping service to Europe
The Express Shipping service normally requires up to 10 days for delivery and the Economy Shipping service may require up to 25 days, unless there are delays in the customs authority of your country.
We normally dispatch orders within 1-3 working days of the order placement. In some cases we may require more time due to operational difficulties in the region or lack of immediate availability. In such cases we will notify you seeking a confirmation that the extra time required is acceptable for you.
There are no reviews for this product at the moment. Have a look at some reviews for other products from this shop.
by Maria B.

These placemats are quite special; the colors are nicely combined with each other and I love the traditional design patterns as well! They add such a unique touch to the kitchen table that many times I use them just for decoration. The quality is great and the weaving is fine.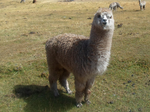 About the alpaca fiber
Alpaca is the natural fiber that is derived from the hair of the Alpaca camelid, a species native to the Andes that lives between 3,500 and 4,500 meters altitude. The indigenous people in the Peruvian Andes have been harvesting the alpaca fiber for thousands of years in order to create a variety of handmade textiles. Good quality alpaca produces luxurious textiles that are famed for being lightweight, warm, strong, hypoallergenic, and for having water and fire resistance qualities.
Similar products
Here are some textiles handcrafted with 100% alpaca yarn, or other products for the kitchen and for dining.
Home & Living category